Roads of Rome II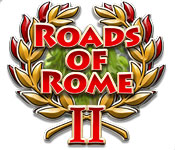 Caesar, the governor of Rome, has been poisoned, and there's no potion strong enough in the world of mortals that can cure him of his terrible disease. Caesar's daughter Julia is in despair and Victorius, an honorable general, sets out on a long journey to the kingdom of the Gods. The lands of barbarians are full of dangers, so be careful! Help Victorius find the magic potion that will save Caesar's life in Roads to Rome 2!
Incredible gameplay
Fantastic storyline
All roads lead to Rome!
Roads of Rome II is free to download and play. After you download Roads of Rome II you have 1 trial hour to decide whether you like it or not. You can buy Roads of Rome II online right away, instantly and securely.
Take up new tricky tasks and overcome challenges in Roads of Rome 2, a game that combines Strategy and Time Management gameplay!